Tarot Cards Meanings - The Suit of Cups - The Four of Cups - Meaning
The Four of Cups - tarot card meanings and illustrations
Basic Meaning
Upright - Time to re-evaluate an all too familiar environment, dissatisfaction and boredom. The need to search for a more stimulating way of life. Apathy, dwelling on past experience. Love that turns to familiarity. Happiness that has reached its peak. Possibly the establishment of a family.
Key Words: Consolidation, boredom, a sense of being stuck in a rut, dissatisfaction, love dominates, a legacy.
---
Ill Dignified or Reversed - All kinds of excess, health issues or fatigue as a result of over indulgence. The overturning of a way of life. Rapid change that may result in new anxieties. Excitement for its own sake that brings little or fleeting pleasure. A low boredom threshold.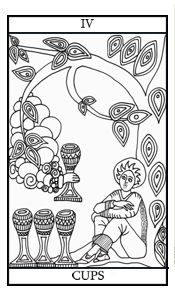 Key Words: Tensions in business bar progress, tiredness from excess or health related issues, swift changes cause concern.
The Four of Cups meaning and symbolism in detail.
The Four of Cups Card illustration.
---
---