Learn Tarot Card Combinations with our App for iPhone/iPad and Android
The Tarot Card Combinations app has to be one of the most comprehensive ways to access not only Tarot card meanings but also what those card then mean when next to each other in a Tarot card spread.
This is a very feature rich app and is possibly one of Tarot's most innovative apps to reach both the Apple and Android stores. Secretly brilliant this app gives Tarot enthusiasts at all levels from beginner to expert all of the functionality needed to either learn Tarot card meanings from scratch or take Tarot understanding to a new level.
The Tarot Card Combinations app allows the seeker to get a wonderful overview of what one card means in relation to another card in a spread. The Tarot Card combinations app gives fast access to all of the Tarot Card Combinations that you could ever need in an easy to use drag and drop format. Simply drag and drop the cards into the desired combination and then hit the 'Reveal' button and you will see all of the keywords that associate with the combination of cards.
There is also a unique ratings system that helps the user to understand how any given combination of cards affects the overall answers to common questions like: Love, Health, Wealth and Happiness.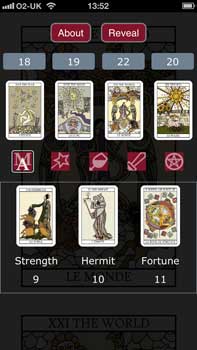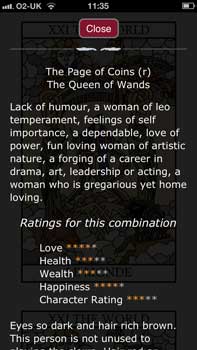 What does the Devil Tower Card mean next to the Tower?
Find out now - download the app for Apple and Android.
Other innovative features include:
Fast easy access to all of the traditional Tarot Card Meanings in a 78 card deck.

Beautiful images from the Tarot Lovers Tarot Deck (The deck is available here and a review is available here).

The unique tarot card ratings system, that helps with questions relating to health, wealth, love and happiness.

Additional lesser known traditional card combinations.

Some sample spreads.

A beautiful doggrel Tarot poem generated automatically from each combination.
Download the app for Apple and Android.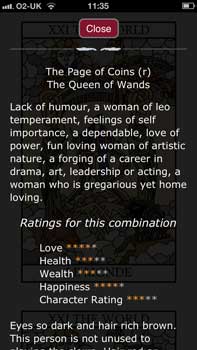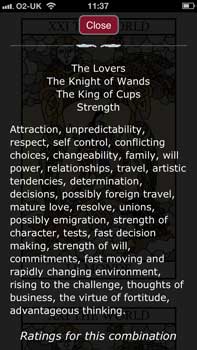 ---
---