Tarot Cards Meanings - The Suit of Cups - The Nine of Cups - Meaning
The Nine of Cups - tarot card meanings and illustrations
Basic Meaning
Upright - The future is well starred, satisfaction, contentment and physical well-being. Overcoming difficulty. Emotional stability, a benign outlook. Inner security which radiates a general aura of goodwill. Liberality, generosity of spirit, feelings of harmony.
Key Words: Happiness, dreams, reassessment of desires, wishes, hopes realized, emotional stability.
---
Ill Dignified or Reversed - Falling into error, complacency, vanity and self indulgence. Concern about a shortage of money due to spendthrift tendencies or loss of credit cards. Sentimentality and an overlooking of the faults in others which can lead to abuse of hospitality.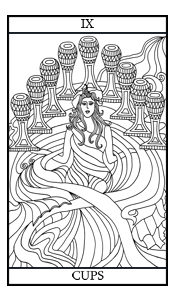 Key Words: Overspending, caution against loss of credit cards, money related issues, errors, vanity, hospitality abuse, vicissitudes.
The Nine of Cups meaning and symbolism in detail.
The Nine of Cups Card illustration.
---
---