Tarot Cards Meanings - The Suit of Cups - The Ten of Cups - Meaning
The Ten of Cups - tarot card meanings and illustrations
Basic Meaning
Upright - Lasting happiness and security, although sometimes this may be indicative of being in a rut. Good reputation and honour, true friendship and happy family life. Perfect love and concord between people. A search for fulfillment is marked with success. A peaceful and secure environment.
Key Words: Family, friendships, relationships, completion, security.
---
Ill Dignified or Reversed - The manipulation of society for personal gain. Friendship issues. Possible family quarrels. Sudden disruption of an ordered environment and ordered routine, anti-social actions. Look for signs of new adolescents or new births.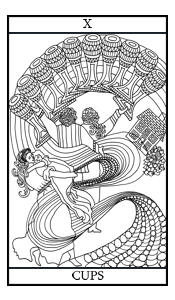 Key Words: Avoid emotional crossfire, reversal of feeling, inconstant emotions, loss of friendship, family issues.
The Ten of Cups meaning and symbolism in detail.
The Ten of Cups Card illustration.
---
---