Tarot Cards Meanings - The Suit of Cups - The Three of Cups - Meaning
The Three of Cups - tarot card meanings and illustrations
Basic Meaning
Upright - A fortunate end to a valued project or venture. A birth possibly physical, but may mean the birth of a new project instead. Great happiness as the result of a marriage or a birth. Something coming to fruition that was conceived out of love. A card of abundant fertility, trust harmony, maternity and the healing of ills. Possibly a celebration. Psychic revelation.
Key Words: Growth, celebrations, family gatherings, something conceived out of love that is coming to fruition, romantic activity.
---
Ill Dignified or Reversed - Self indulgence to excess. Selfishness and sensuality. Feelings of not being so happy, unbridled passion, health issues possibly associated with smoking or over-eating and obesity, possibly loveless lovemaking.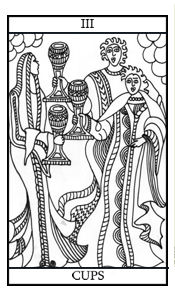 Key Words: emotions, selfishness, self indulgence, health related issues, a danger of over indulgence.
The Three of Cups meaning and symbolism in detail.
The Three of Cups Card illustration.
---
---